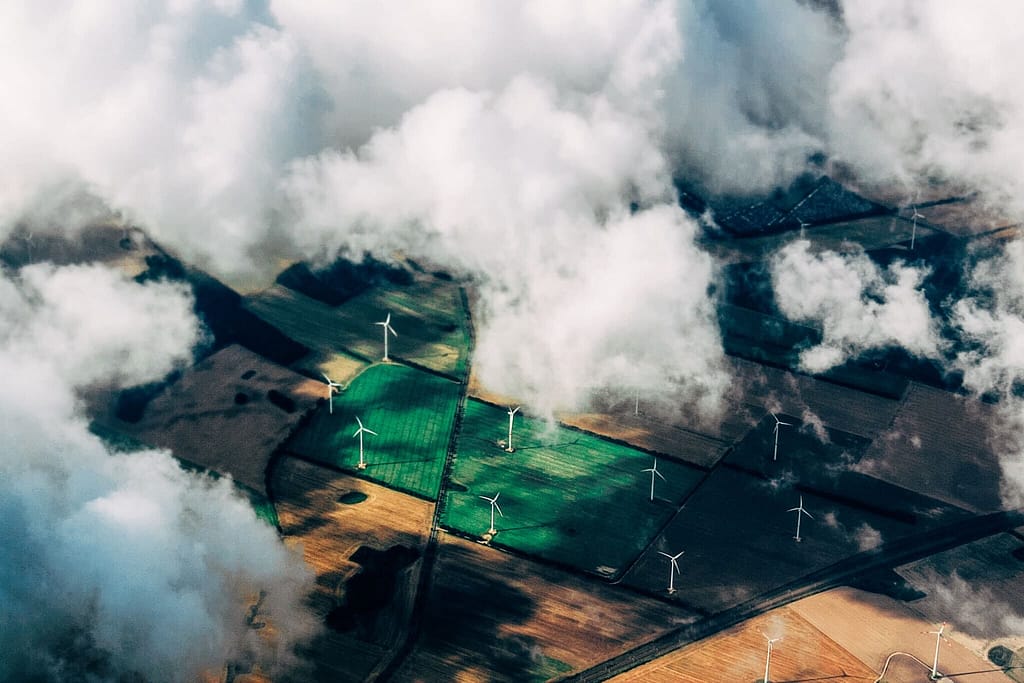 Renewable Energy Web Design: Why It's Essential To Do It Right
As a renewable energy provider, it is crucial that your website is stands out amongst the crowd – otherwise, these potential business will go elsewhere. Renewable energy web design done well is vital to the success of your organisation, it can bolster your brand identity, drive enquiries, generate additional clients and much more – but only if done correctly.
A well-designed website and user experience will funnel your customers to where you want them to go. It will also build your credibility, which is a crucial part of getting potential customers to trust you are the solution they're looking for.
Here are 7 renewable energy web design tips that are going to help you blow away the competition. 
Tip 1: Create a Cutting Edge and Professional Website (That Matches Your Brand)
It only takes visitors 0.2 seconds to make a judgement about your website, so first impressions count.
Like any industry, when doing web design for renewable energy, it's really important that your website matches your brand – modern, bright, positive, whatever tone you want to convey to your customer. Many companies in the industry opt to use a green and blue colour schemes, as renewable energy is often viewed as more environmentally friendly. 
Ensure that your website looks modern and up to date, this will help reaffirm your credibility. 
Tip 2: Provide An Enjoyable User Experience (See: Easy Navigation)
When potential customers land on your website, it's important that they know the next steps that you want them to take. Get together with your team and decide what journey you want your customers to go on.
Do you want them to contact a technology lead, enquire about a PPA, book a consultation? Do you have better conversions when customers download a whitepaper with further information? Do you want to show customers a catalogue of your technologies, services and products? Do they need social proof from accreditations or governing body standards?
Understanding your target audience's likely journey and pre-empting/addressing their common rejections is a must. This will help you map this user journey and allow you to design pages and funnels to nurture your audience and visitors on each step of their journey – further increasing the likelihood of achieving your site's objectives with each visitor.
Tip 3: Be Visual
Eye-catching visual elements are a great way to break up your webpage and draw attention to the areas you want your customers to go to.
When considering what visual elements to use for renewable energy web design, consider using things like:
Videos

Images that convey the story of the words on the page

Graphs and infographics that show the benefits of switching to renewable energy

Lottie files or scroll-based animations 
Catching your customer's eye with intriguing graphic design will keep them on your page longer and therefor improve your odds of making them take valuable action on your site.
Tip 4: Be Mobile First
These days, people prefer to use their mobile phones to scroll online. As of August 2022, 59.4% of internet traffic came from mobile devices. A lot of renewable energy web design is currently focussed on desktop design (i.e. computers). If that's the same for your site, it means a lot of potential customers aren't getting the best first impression of your website and likely leaving without taking valuable action.
It's really important to ensure that your website has been designed with mobile devices in-mind. Try and break up big blocks of text so that mobile users can get the information they need quickly, strip back your content so it's not overbearing and use large, readable fonts.
At Seven Seas Digital, we take a mobile first approach with our design – ensuring every page is automatically responsive and suitable to your audiences most common browsing device.
Tip 5: Make It Skimmable And Easy To Read
It's crucial that your website is easy to scroll and navigate. These days, most people don't have the time to sit and read vast amounts of information, they skim the key headings that interest them and then move on. 
Give each section of your text clear headings, write brief, short sentences that will catch your readers' eye, use bullet points to break up large chunks of text and use visuals wherever possible.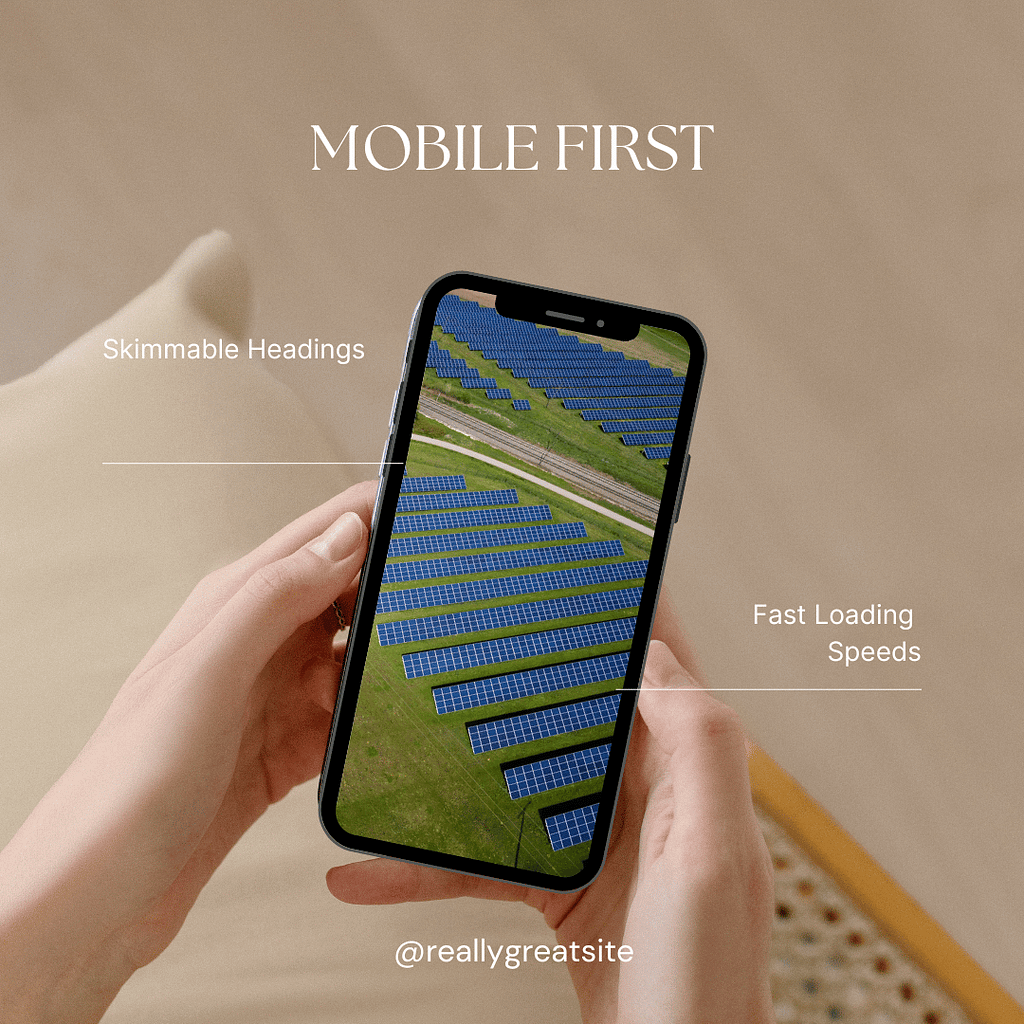 Tip 6: Use Consistent Call To Actions
The number one thing you want potential customers to do when they come to your page is take action. How do you do that? With consistent and clear calls to action.
Calls to action (CTA's) can be text, clickable buttons, images, free downloads and a whole lot more. Basically, anything that calls out to a visitor and gets them to take the action you want them to.
There is a fine art to crafting strong, relevant and scroll-stopping CTA's. Ensure you keep consistent CTA's throughout your renewable energy web design to see improved site performance.
Tip 7: Execute Search Engine Optimisation
If you're not on Google's coveted first page when it comes to search results, you might as well not exist. In fact, Backlinko reports that only .63% of Google searchers clicked on a link on the second page.
If you aren't executing a search engine optimisation plan, it's very likely that customers won't be able to find you, and your renewable energy web design will go to waste. 
Search engine optimisation is a complex field that requires some work in to understand it's importance and the potential for your business, but here's a short list of things you can do immediately to help your ranking.
Research what your customers are searching on Google and create content based on those keywords. 

Ensure your site loads fast (especially on smart devices i.e. be mobile-friendly) and avoid anything that slows it down.

Make sure the metadata of your site is optimised for keywords.

Key an eye out for new algorithm updates released by Google.
Tip 8: A Search Engine-Friendly, User-Friendly and Organised CMS
Having a user-friendly and SEO-freindly content management system means that you and your team can update your site whenever you need to. It also means search engines can easily understand your site's content and structure, further improving your chances of ranking on page one for your key search terms. An organised CMS makes adding content, updating sales pages and keeping track of your conversions simple. 
FAQS –
Most commonly asked Renewables Web Design Questions
How To Pick the Right Web Design Agency for My Renewable Energy Website?
When picking a web design agency, there are a few things you need to consider. 
Firstly, how available will they be to answer your questions? Two-way communication is extremely important in business, so choose an agency that feels like they value your business, and won't just push you to the side.
You should also take a look at their previous work and case studies to see how they can help your business. An agency that has completed similar work in your industry will have inside knowledge of what it takes to get the job done.
Finally, look for a web design agency that values responsiveness, and user experience and has a proven track record of creating websites that convert.
What are common website design mistakes I should avoid?

Unclear communication & navigation. ..

Weak calls-to-action (CTAs) …

Too many website elements. …

Untrustworthy design elements. …

Not optimizing across different devices. …

Poor accessibility…